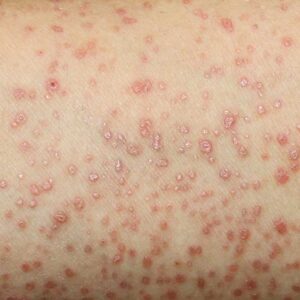 What is lichen planus?
Lichen planus is a rare, recurrent inflammatory dermatitis. It causes the formation of many itchy bumps that can spread all over the body. Lichen planus is chronic, and because the underlying causes are unknown, there are no specific cures.
What does lichen planus look like?
Lichen planus causes itchy, purple bumps to form. In the initial stages of the condition, the bumps appear on the wrist before spreading to other areas of the body.
Living with lichen planus
To reduce itching and to help shorten outbreaks, products containing natural reducing agents can be used.
Apply a small amount of Dermictiol Cream to the affected area(s) and massage well until the product is completely absorbed.
Dermictiol Cream is rich with ichthyol sulfonate, which helps to soothe skin and curtail outbreaks of lichen planus.