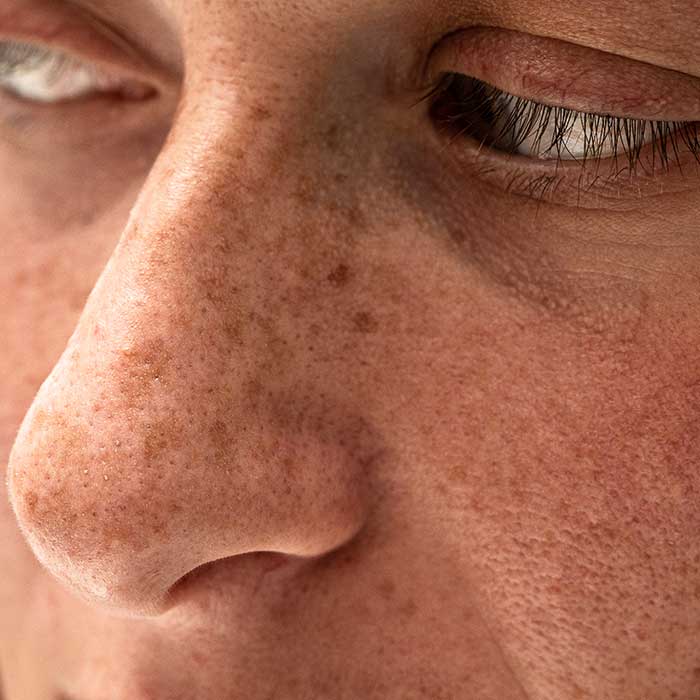 Sun demaged skin: symptoms, causes and treatment
Sun damaged skin, often in the form of sunburn, is almost inevitable and can occur in all individuals. In fact, from birth, the skin is constantly exposed to both visible and invisible radiation: Solar radiation (UVA) is electromagnetic radiation and it penetrates the skin upon contact. Energy is then transferred to the cells of the epidermis and the dermis, with both positive and negative consequences. Ultraviolet radiation (UVB) is silent, invisible and the most dangerous type of radiation. Ultraviolet radiation is so charged with electromagnetic energy that it can completely destroy cells and/or damage their genetic make-up. Long-term exposure to the sun's rays causes premature aging, which is particularly noticeable on the face and back of the hands. This phenomenon is called photoaging and refers to aging by sunlight exposure, not by time.
What are the signs of photoaging or sun-damaged skin?
The principal signs of photoaging are:
Melanosis or sun spots
Wrinkles
Keratosis
These symptoms are not present in areas of the body that are almost always protected from the sun, such as the bottom. This provides further evidence of the damage ultraviolet rays cause to the skin it touches.
How to treat sun damaged skin
The simplest, most effective and non-invasive treatment for sunburned skin is micropeeling. The non-irritating, concentrated exfoliating agents accelerate peeling (desquamation) and cell turnover. During cell turnover, damaged, inactive cells are replaced by more active ones that can regenerate healthier skin with fewer sun spots, wrinkles and keratosis
Apply Face Glycocream in the evening on clean, make-up free skin. Massage a small amount across the whole face, taking care to avoid the eyelids. Face Glicocream may provoke sensations of itching or stinging when first applied but this will subside after a couple of minutes.
Do not rinse the product and do not apply anything further.
The treatment should be used between October and June. A dermatologist should be consulted on how long treatment should be continued. Depending on the skin type and damage, application may vary from once a day, to once a week. Similarly, a dermatologist should also be consulted as to whether Glicocream Face treatment should be continued over the summer months. Glicocream Face micropeeling treatment is suitable for people aged 35 or over. Glicocream Face treatment can make the skin drier.
To moisturize and soften the skin, apply Nourishing Cream in the morning.